Confirm your booking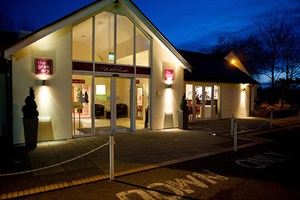 £188
£188

For 2 Nights Per Person
£188
For 2 Nights
Two Night Stay with Two Course Dinner at The Granary Hotel
Multiple Locations,
Worcestershire
buyagift
Unknown
Sorry the deal you were looking at has now sold out.
Please take a look at all UK hotel deals!Click here
Ultimate relaxation awaits you with this two-night stay for two in the lush green expanse of Worcestershire. Staying in deluxe lodgings, The Granary Hotel is the perfect place to unwind andenjoy somewell-deserved rest. Each includes free WiFi, adigital flat screen television with Freeview channels, en suite bathroom facilities and tea and coffee making facilities. With plenty of countryside to explore in the nearby area, this stay is fantastic forrelaxing country walksand exploring.

Upon arrival, you will be greeted by the warm and welcoming hotel staff. After checking in with reception, you will be escorted to your room. The first evening of your stay, you will enjoy a complimentary two-course meal from a set menu with a glass of wine. You will be provided with a full English breakfast on both mornings of your stay.
Check In1 Jan 2016
Check Out3 Jan 2016
No. of Nights2
No. of Rooms1
No. of Adults2
No. of Children0
No. of Infants0
Property Id102694
Booking TypeHE
Check In1 Jan 2016
Check Out3 Jan 2016
No. of Nights2
No. of Rooms1
No. of Adults2
No. of Children0
No. of Infants0
Property Id102694
Booking TypeHE
---
Returning Customer? Sign In Here
Enter Discount Code
Enter your discount code below:
Step
4
2
. Booking Confirmation for Multiple Locations
Check In1 Jan 2016
Check Out3 Jan 2016
No. of Nights2
No. of Rooms1
No. of Adults2
No. of Children0
No. of Infants0
Property Id102694
Booking TypeHE