Confirm your booking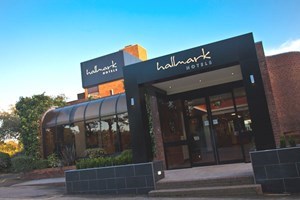 £146
£146

Per Person
£146
Per Night
One Night Break with Dinner for Two at Hallmark Hotel Hull
Multiple Locations,
East Riding of Yorkshire
buyagift
Sorry the deal you were looking at has now sold out.
Please take a look at all UK hotel deals!Click here
Enjoy some of the best food Yorkshire has to offer and relax in luxurious comfort and style with a gourmet overnight break at the prestigious 4-star Hallmark Hotel in Hull. Situated between the beauty of the Yorkshire Wolds and the excitement of Hull city centre, the Hallmark will provide you with luxurious accommodation and an expertly prepared evening meal guaranteed to satisfy. After a blissful nights sleep, youll be treated to a full breakfast in the morning.

You will arrive at the Hallmark Hotel Hull and be warmly welcomed by the kind and courteous hotel staff. After checking in at reception, you will be escorted to your beautifully decorated en suite room. The evening of your arrival, you will be treated to a delectable two course meal in the hotels restaurant with a glass of wine each. The following morning, you will enjoy a delicious full breakfast.
Check In1 Jan 2016
Check Out3 Jan 2016
No. of Nights2
No. of Rooms1
No. of Adults2
No. of Children0
No. of Infants0
Property Id102091
Booking TypeHE
Check In1 Jan 2016
Check Out3 Jan 2016
No. of Nights2
No. of Rooms1
No. of Adults2
No. of Children0
No. of Infants0
Property Id102091
Booking TypeHE
---
Returning Customer? Sign In Here
Enter Discount Code
Enter your discount code below:
Step
4
2
. Booking Confirmation for Multiple Locations
Check In1 Jan 2016
Check Out3 Jan 2016
No. of Nights2
No. of Rooms1
No. of Adults2
No. of Children0
No. of Infants0
Property Id102091
Booking TypeHE