Confirm your booking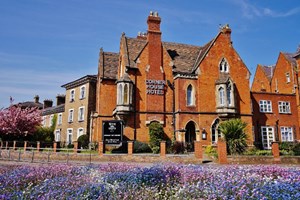 £93
£93

Per Person
£93
Per Night
One Night Break with Breakfast for Two at The Corner House Hotel in Somerset
Multiple Locations,
Somerset
buyagift
Sorry the deal you were looking at has now sold out.
Please take a look at all UK hotel deals!Click here
Enjoya great escape with this one-night stay including breakfast in the open expanse of Somerset. Situated in the gorgeous country town of Taunton, the Corner House Hotel is a deluxe lodging for you to unwind and relax in complete comfort. Each room features free high speed WiFi, complimentary bottled water and chilled fresh milk, refrigerator, flat screen television with Freeview channels, crisp white duvets from the Afonwen premier range and Caroline Henry of Bath toiletries. All these extra amenities allow you to recline in total tranquillity, leaving you free to use your day to explore all that Somerset has to offer.

Upon the point of arrival, you will be graciously greeted and welcomed by the friendly and conscientious staff. After checking in at reception, you will be escorted to your room. The following morning of your stay, you will receive a complimentary full English breakfast for two.
Check In1 Jan 2016
Check Out3 Jan 2016
No. of Nights2
No. of Rooms1
No. of Adults2
No. of Children0
No. of Infants0
Property Id102341
Booking TypeHE
Check In1 Jan 2016
Check Out3 Jan 2016
No. of Nights2
No. of Rooms1
No. of Adults2
No. of Children0
No. of Infants0
Property Id102341
Booking TypeHE
---
Returning Customer? Sign In Here
Enter Discount Code
Enter your discount code below:
Step
4
2
. Booking Confirmation for Multiple Locations
Check In1 Jan 2016
Check Out3 Jan 2016
No. of Nights2
No. of Rooms1
No. of Adults2
No. of Children0
No. of Infants0
Property Id102341
Booking TypeHE